Legacy Park is our most utilized park and a great place for the family. Legacy Park is located on Hwy N, nestled up to Dardenne Creek near Cottleville City Hall, 5490 Fifth Street, Cottleville, Mo 63304.
Legacy Park was named by former Mayor Donald Yarber who served first as an Alderman from 2002-2004 and then as Mayor from April 2004 to April 2013.   Mayor Yarber wanted this park to serve as a "legacy" to his love for public parks including a place for people to enjoy with their dogs.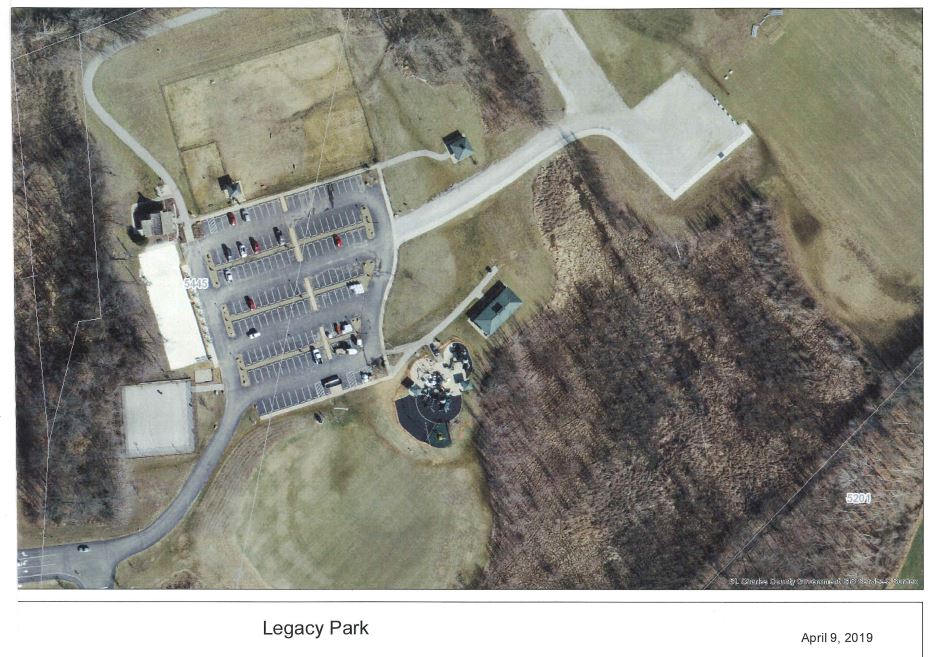 Playgrounds
Designed for children from 2 to 12 years of age, the Playground is located near the amphitheater and Pavilion A in Legacy Park. Let your children climb, swing, slide and whirl on our many different pieces. Soft rubber flooring is in place to help with keeping your child safe.
Legacy Park added a second playground in 2018, near Pavilion C off Cottleville Parkway. This playground is designed for ages 6-12 year olds.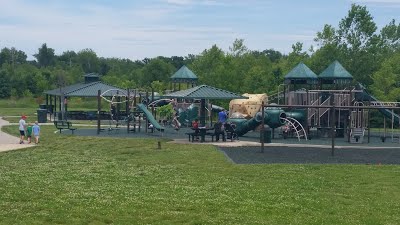 ---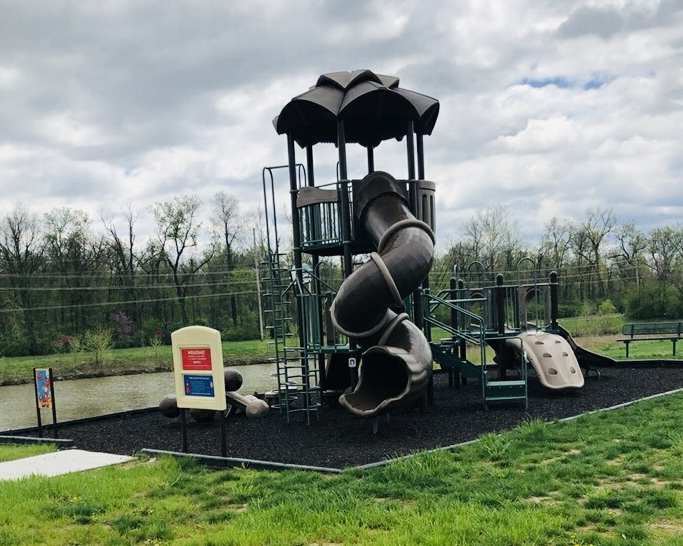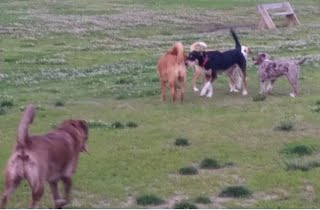 Don Yarber Bark Park
Named after former Mayor Donald Yarber who served first as an Alderman in 2002 and then as Mayor from April 2002 to April 2013. Mayor Yarber wanted this bark park to serve as a legacy to his love for public parks including a place for people to enjoy with their dogs.  
Bring your furry friend down to socialize with other dogs. Two sections are available: A section for small dogs or puppies, and a large one-acre section for large dogs to play. The Bark Park is closed when muddy conditions prohibit access. All rules & regulations are also posted at the site.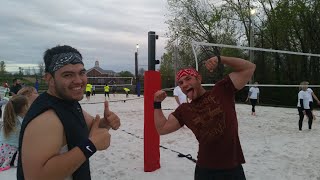 Marie Mannino Sand Volleyball Courts
Two Florida sand volleyball courts are available and open to free play any day or night of the week EXCEPT when the Cottleville Volley Ball Leagues are playing. These are first come, first serve and cannot be reserved. To sign up for League Play, select the Legacy Park location.
The Sand volley ball courts were named after Alderman Marie Mannino in 2021 who was elected to the Board of Aldermen in 2002 and has continued faithful community service for nearly 20 years. Marie also served the City as being the Aldermanic representative to the City's Planning and Zoning Commission beginning in 2002. Marie has set an example for commitment to public service by dedicating her time as an Alderman for the City of Cottleville while also owning and operating a Cottleville business for several years. Marie has a tremendous passion for the City's parks, in particular the sand volleyball courts where she often played and initially assisted in the design and drainage system.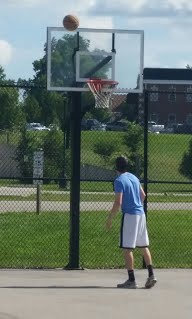 Basketball Hoops
If basketball is your sport, bring your ball and come down to the tennis courts to shoot some hoops. There are four basketball hoops installed for a quick pick up game, or to teach your kids how to play.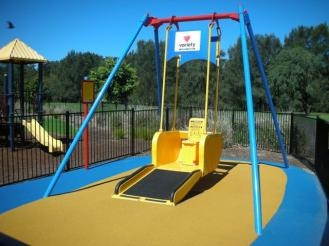 Liberty Swing
The Liberty Swing is a gift from the Cottleville Firemen's Outreach and is located at the playground in Legacy Park. The swing is designed to be a safe place for those in a wheelchair to enjoy. To get the key to unlock this piece of equipment, stop by the Police Department, City Hall, or the Fire Department.

The 24-hour Non-Emergency Police dispatch phone number is 636-939-9966. Dial 911 for emergencies.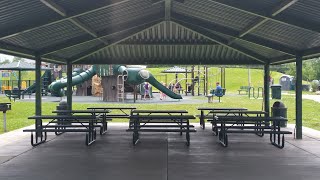 There are six pavilions available for rent. All Pavilions have electricity, bar-b-q grills, trash cans, & restrooms nearby.
Note: Pavilion 1 is located in Scott A. Lewis Park; Pavilion 2 is in Hansen Park.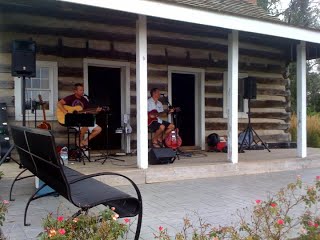 Old Log Cabin
The Cabin was originally owned by the Sargent Family and was located on Eagle Hill, just north of old town Cottleville. The City purchased the cabin and had it transported to its current location. The Old Cabin has a "self-composting" restroom.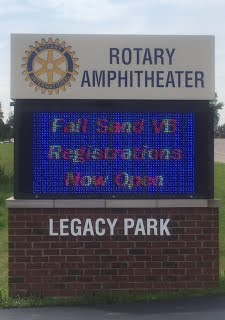 Rotary Amphitheater
This amphitheater was made possible by the Cottleville/Weldon Spring Rotary Club and many other businesses, clubs, foundations and residents.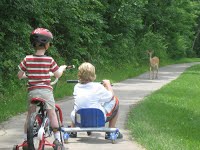 Dardenne Greenway Multi-Use Trail
Learn more about Great Rivers Greenway. This paved trail runs along the Dardenne Creek and is used for walking, running, bicycling, golf carts, rollerblading, skateboarding or walking your pet. A 5K run can easily be mapped out on our paved trails for your group or fundraiser. Please be aware of those around you and be courteous users.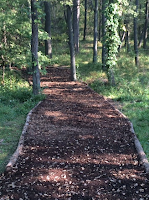 Koontz Fort Trail
This trail was completed in Spring 2015 and is a dry weather trail winding through the woods from Brittany Place subdivision to Legacy Park. Take a walk and hear the quiet of the woods and watch the native animals in their habitat. The Koontz Fort Trail received its name after Nicholas Koontz, who built a fort during the war of 1812, located on Highway N, which is the old Boone's Lick Trail Way.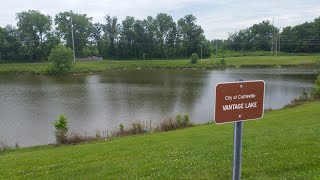 Vantage Lake
The Lake is accessible from Lohmar Lane via Madison Park Drive, or utilize the 10' wide paved pedestrian bridge over Dardenne Creek. It is a nine acre lake, houses a small gazebo, restroom and offers 0.7 mile paved walking trail. Vantage Lake received its name from the home builder of Madison Park Subdivision.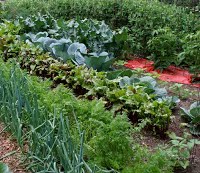 Community Garden
Garden space is available near Vantage Lake. We currently have some of the space occupied with vegetable gardeners, but does have room for additional gardeners to enjoy. Contact City Administrator 636-498-6565, to obtain community garden space. Currently there is no access to water at the community garden.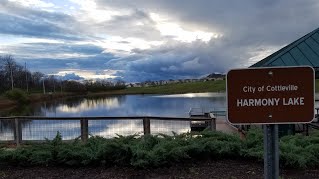 Harmony Lake
is accessible from Cottleville Parkway (near SCC) to Harmony Estates Drive. Harmony Lake is a five acre lake, a nice fishing dock, Pavilion C, & D, restroom, off street parking and features Podhorn Trail; a 0.6 mile paved walking trail. Harmony Lake received its name from former property owner and life long resident, Mrs. Podhorn who stated she enjoyed the peace and harmony of her farm.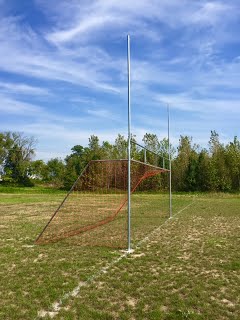 Kochanski Sports Field
A new multipurpose field was constructed in 2016 and is located behind Pavilion A. This field will be used for football, soccer and many other sports. The multi-sports field project will include a regulation size field, football/soccer goal posts, bleacher seating, recycle receptacles and some additional parking. Kochanski Sports Field was named after the late Stephen Kochanski who served as Cottleville's first Mayor (after Cottleville became a 4th class city). He later served as our City Administrator and was also employed in our Parks & Recreation Department, at the time of his death.