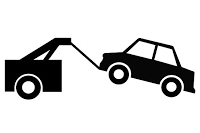 The following documentation must be presented in person at the Cottleville Police Department located at 5490 Fifth Street.
The Records Division is open Monday through Friday from 9 am - 5 pm.
The Registered Owner of the vehicle must present ALL of the following:
1. Valid State issued Drivers License -- (or State Identification Card, US Passport)
2. Car Title, Notarized Bill of Sale, OR Current State Registration for the vehicle.
Vehicle owners must present a valid current state vehicle registration form. If the vehicle owners have not registered the vehicle they must obtain and present a valid title only registration issued from the Missouri Department of Revenue or appropriate state.
3. Current Proof of Insurance -- (vehicle owners must present a valid, current insurance card that lists the dates of coverage and the specific vehicle identification).
Frequently Asked Questions
1. Is there a fee for obtaining a vehicle release form?
No
2. Who is responsible for the fee's for towing and storage?
The registered owner and/or vehicle operator.
3. What if I don't have my registration?
You must obtain a duplicate registration from the Missouri Department of Revenue.
4. What if my registration is in the vehicle that was towed?
You may contact the Tow Company and make arrangements to get the registration out of the vehicle before coming to the Police Department.
5. What if I borrowed the car from a friend, can I still get the vehicle released?
No, only the registered owner may obtain a vehicle release.
6. What if I bought the car, but never licensed, titled or registered the car?
You must contact the Missouri Department of Revenue and obtain a "title only registration" and provide documentation to Cottleville Police Department to obtain a release.