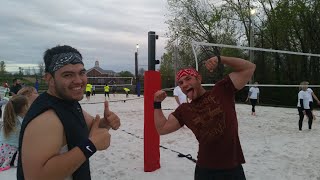 Register for a Sand Volleyball League in Legacy Park online at Missouri Sand Volleyball, and click on the Cottleville Legacy Park location. No teams will be added to the League without payment.
Spring, Summer, & Fall Leagues are offered. Tentative Schedule: Mondays, Wednesdays, Thursdays, Fridays, & Sunday Evenings.
Tuesday and Saturday all day free play - no leagues.
Sand volleyball courts are not available for reservations. They are first come first serve, unless occupied by leagues.
League Rain Out phone number: 314-375-5885
The Sand volley ball courts were named after Alderman Marie Mannino in 2021 who was elected to the Board of Aldermen of the City of Cottleville in 2002 and has continued faithful community service for nearly 20 years. Marie also served the City as being the Aldermanic representative to the City's Planning and Zoning Commission beginning in 2002. Marie has set an example for commitment to public service by dedicating her time as an Alderman for the City of Cottleville while also owning and operating a Cottleville business for several years. Marie has a tremendous passion for the City's parks, in particular the sand volleyball courts in Legacy Park where she assisted in the design and drainage system.