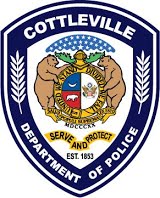 Emergency
Dial: 911
24 Hour Non-Emergency Police Dispatch
Tel: 636-939-9966
Police Department Office
9 am - 5 pm; Monday - Friday
Tel: 636-498-6464
          Crime Tip Hotline
          636-498-6464 X 210
The Cottleville Police Department has established a "Crime Tip Hotline" for any information related to a criminal incident. Callers may remain anonymous if desired.  If the call is related to any incident in progress please hang up immediately and dial "911" or for all non-emergency incidents dial the Cottleville Police Dispatch Center at 636- 939-9966.
"As the Chief of Police, I promise our police department's mission and our officer's mission, is to defend, protect, and serve the quality of life in the City of Cottleville for our residents, businesses, churches and visitors.
On behalf of the men and women of the Cottleville Police Department, it is my sincere pleasure to welcome you to our virtual home. Please take time to explore our website and please let me know if there is anything the Cottleville Police Department can do to serve you."
Reverence for the Law
Unwavering support of the freedoms and rights guaranteed to all persons in the Constitution.
---
Integrity & Respect
A pledge to hold ourselves to the highest legal, moral and ethical standards. We believe in treating every person with dignity and respect.
Personal Courage
Ever ready to face fear, danger or adversity both physical and mental.
---
Excellence through improvment
We will strive to be at the "tip of the spear", leading change, never satisfied with the status quo.
Police Reports
Police Reports are $10 - Requests should be mailed to our Records Clerk:
Cottleville Police Department
Attn: Records Clerk
5490 Fifth Street
Cottleville, Mo 63304
Vacation Check
The Cottleville Police Department provides free of charge to the citizens of the city limits of Cottleville, vacation checks.  Prior to your vacation, please complete the Vacation Check form.
Resident Camera Program
Do you currently utilize video surveillance at your home or business? If you do, the Cottleville Police Department could use your help! The Cottleville Police Department has implemented a voluntary Camera Registration Program. This program will allow residents and business owners to register their address allowing the Cottleville Police to know about locations of nearby video systems. Video surveillance footage is one of the best methods to identify and convict suspects. If a crime was to occur near a registered resident or business owners system, it may have captured the incident.  Reviewing the video footage and imagery could possibly provide information leading to an identification and arrest of a suspect. Registering for this program is 100 percent voluntary and does not give the Cottleville Police Department access to your camera system.  If you would like to join our program, please complete the Resident Camera Program Registration. Registrants can always choose to withdraw from the program at any time by calling the Cottleville Police Department at
636-498-6464.